Characteristics
Status
Origin
History
Ace joins Dart as his sidekick after witnessing a horrifying drive-by shooting which kills his parents. After that with nothing better to do Ace joins the Dart as his side-kick Amazing Boy. He can fly just like Dart can.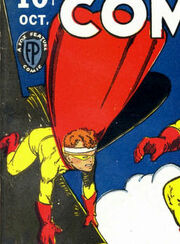 Powers and Abilities
Powers
Flight

Abilities
None known.

Strength level
Unknown.

Weaknesses
None known.

Paraphernalia
Equipment: None known.
Transportation: None known.
Weapons: None known.

Notes
Historical First Appearance: Weird Comics #5 (Fox Features, 1940)

Trivia
See Also
Appearances of Ace Barlow

(Chronological)

Appearances of Ace Barlow

(Unordered)

Character Gallery: Ace Barlow

Fan-Art Gallery: Ace Barlow

Quotations by Ace Barlow
Discover and Discuss
Links and References
---