Dynamic Family, Supremacy
Characteristics
Status
Origin
History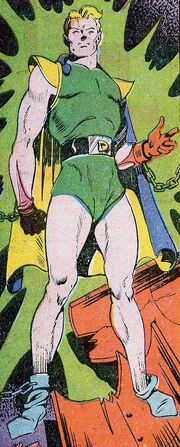 Dr. Moore created an artificial man to combat the evil witchcraft of The Yellow Spot. The Spot, who could travel as a bat, was killing off or entrancing the minds of American scientists. He went to the home of Dr. Moore to kill him. While being stabbed, Moore somehow managed to throw the switch giving life to his Dynamic Man. Dynamic Man was able to stop the plan of the Yellow Spot and release the trapped minds of other scientists. Dynamic Man then eliminated the Yellow Spot, who could only be killed in his bat form.
Later, the character assumed a human identity as a high school basketball coach named Bert McQuade. With his brother Ricky as his sidekick, Dynamic Boy, he fought crime in the 1940s.
In the years following World War II, Dynamic Man built a vast empire, Dynamic Forces. He became custodian of many artifacts from the war, including Pandora's Urn. When the Fighting Yank and Green Lama came for the Urn, Dynamic Man tried to break it first. This led to a huge battle with Yank and various returning heroes.
After Dynamic Boy's "death," Dynamic Man went to the Supremacy, to lobby for a position on their council.

Powers and Abilities
Powers
None known.

Abilities
None known.

Strength level
Unknown.

Weaknesses
None known.

Paraphernalia
Equipment: None known.
Transportation: None known.
Weapons: None known.

Notes
Historical First Appearance: Dynamic Comics #1 (Harry 'A' Chesler Publications, 1940)

Trivia
See Also
Appearances of Bert McQuade

(Chronological)
Appearances of Bert McQuade (Unordered)

Character Gallery: Bert McQuade

Fan-Art Gallery: Bert McQuade

Quotations by Bert McQuade
Discover and Discuss
Links and References
---