Characteristics
Status
Origin
History
Pilot Brad Hendricks wore the costume of the Ghost to fight against the Germans in occupied Europe. He also waged an ongoing war against the Claw, nearly killing the villain on at least one occasion. Ultimately, the Claw still managed to survive, however. The Ghost had no powers, but he did have the high-tech Ghost Plane.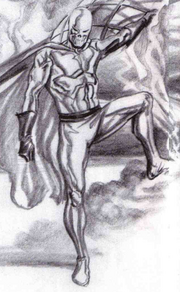 Powers and Abilities
Powers
None known.

Abilities
Symbiotic relationship with his plane.

Strength level
Unknown.

Weaknesses
Because he and his plane are now one he feels all that the plane feels.

Paraphernalia
Equipment: None known.
Transportation: Ghost Plane
Weapons: None known.

Notes
Historical First Appearance: Daredevil Comics #5 (Lev Gleason, November 1941)

Trivia
See Also
Appearances of Brad Hendricks

(Chronological)
Appearances of Brad Hendricks (Unordered)

Fan-Art Gallery: Brad Hendricks

Quotations by Brad Hendricks
Discover and Discuss
Links and References
---