Wonderman
[[File:|200px|center|Brad Spencer]]
Characteristics
Status
Origin
History
Brad Spencer is accidentally exposed to a sizzling voltage of a secret current. This gives him superpowers, and he uses his new abilities to become Wonderman, and fight crime. He is helped by his girlfriend Carol Paige. Brad has the ability to become invulnerable (as hard as steel) and has super-strength.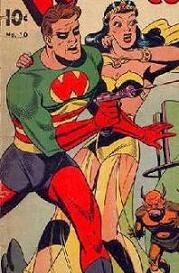 Powers and Abilities
Powers
None known.

Abilities
None known.

Strength level
Unknown.

Weaknesses
None known.

Paraphernalia
Equipment: None known.
Transportation: None known.
Weapons: None known.

Notes
Historical First Appearance: Complete Book of Comics and Funnies #1 (Nedor, 1945)

Trivia
See Also
Appearances of Brad Spencer

(Chronological)

Appearances of Brad Spencer

(Unordered)

Character Gallery: Brad Spencer

Fan-Art Gallery: Brad Spencer

Quotations by Brad Spencer
Discover and Discuss
Links and References
---