Characteristics
Status
Occupation
Police Officer
Origin
History

Rookie cop Dan Garret is given the Vitamin 2-X formula by Dr. Franz, who intends the powerful vitamin to only be used by someone pure of heart. Vitamin 2-X gives Garret super-strength. He dons a bullet-proof blue chain mail costume and uses his powers to fight crime. He drives a hopped-up roadster and projects his beetle insignia onto walls to frighten criminals. He was later joined by a sidekick named Sparky.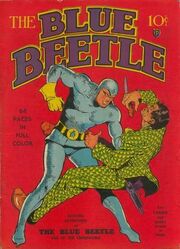 Powers and Abilities
Powers
None known.

Abilities
None known.

Strength level
Unknown.

Weaknesses
None known.

Paraphernalia
Equipment: None known.
Transportation: None known.
Weapons: None known.

Notes
Historical First Appearance: Men of Mystery Comics #1 (Fox Features, 1939)

Trivia
See Also
Appearances of Dan Garret

(Chronological)
Appearances of Dan Garret (Unordered)

Character Gallery: Dan Garret

Fan-Art Gallery: Dan Garret

Quotations by Dan Garret
Discover and Discuss
Links and References
---