Characteristics
Status
Origin
History

The Merrywether family was travelling through the jungles of Burma when bandits killed the mother, father, and sister. Young David was the only survivor. He was found and raised by a tiger, and gradually gained all the powers of the cat family. He returned to the United States, only to be appalled by the crime and evil he found. He decided to fight it, both as a private eye (and later as a soldier) in his civilian identity, and as the costumed Cat-Man.
He is assisted by his 12-year-old ward, Katie Conn, who puts on a costume and fights as Kitten. Cat-Man has cat-like powers; he can see in the dark, leap many times his length, and can climb anything. He also has nine lives. He is watched over by a guardian angel in the form of a tigress, who can and does bring Cat-Man back to life when he is murdered.
After World War II, Fighting Yank trapped Cat-Man in the Urn of Pandora. When the heroes were released, Cat-Man returned in Burma. The time in the Urn had turned him into a more savage, feral being, resulting in his being referred to as Man-Cat.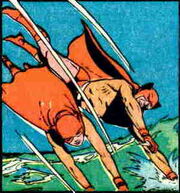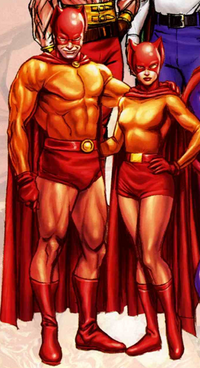 Powers and Abilities
Powers
After his stay in the earn he has gained Cat-like powers including night vision, Super leaping and climbing abilities,and Nine lives, he is even able to tell that Dynamic Boy is impersonating Kid Terror.

Abilities
None known.

Strength level
Unknown.

Weaknesses
None known.

Paraphernalia
Equipment: None known.
Transportation: None known.
Weapons: None known.

Notes
Historical First Appearance: Crash Comics #4 (Holyoke Publishing, 1940)

Trivia
See Also
Discover and Discuss
Links and References
---
Community content is available under
CC-BY-SA
unless otherwise noted.