Characteristics
Status
First appearance
Exciting Comics #51 (Sep 1946)
History
Golden Age History
Miss Masque is the secret identity of Diana Adams, a young socialite who decides to fight crime and injustice in disguise. Originally, Miss Masque had no super powers but relied on her wit and a pair of revolvers.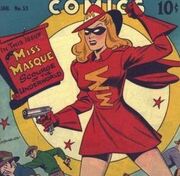 Disappearance
Lured to the Fighting Yank's side by a distress signal from his servant, Markham, she was tricked into Pandora's Urn when he told her it contained the essence of his ancestors and needed it to revive him from his "injuries".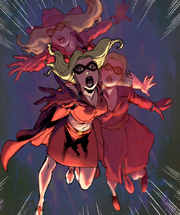 Reappearance
After she was released from Pandora's Urn, she manifested the ability to possess others.

Powers and Abilities
Powers
"Possession": Masquerade can inhabit the body of a target person and access his/her thoughts and memories, but is unable to influence the target's actions (PS #7 p.14-15)
Able to enter a type of fugue state and draw together disparate facts to understand a situation.

Abilities
None known.

Strength level
Average human

Weaknesses
Once Masquerade "possesses" another person, she remains trapped within that person until a third party places her mask on the "possessed" individual (PS #7 p.14-15)

Paraphernalia
Equipment: None known.
Transportation: None known.
Weapons: Two .45 Automatics

Notes
Trivia
Miss Masque (a.k.a. Masquerade) wore several different costumes in her 1940's incarnation; Alex Ross tried to work all of them into the Masquerade mini-series.
The series gives conflicting information about Masqurade's possible involvement with V-Man. PS #6 p.5 indicates that she's romantically involved with him, while Masquerade #4 indicates that she's surprised by V-Man's feelings for her.
See Also
Discover and Discuss
Links and References
Masquerade at Dynamite Entertainment

---
Community content is available under
CC-BY-SA
unless otherwise noted.