Relatives
Professor Claude Stevens (Father)
Characteristics
Status
Origin
George Kapitan & Harry Sahle
First appearance
Keen Detective Funnies #23 (1940)
History
Professor Claude Stevens, a renowned ornithologist, is senselessly murdered. His son Drake is outraged and gets no justice from the police. So Drake puts together a costume consisting of a pair of gas-filled wings, a jet-pack, and some bombs, and goes hunting for criminals. He has no superpowers, but between his wings (the gas filling them is lighter-than-air) and his jet pack he can fly, and his bombs and guns allow him to kill and blow things up.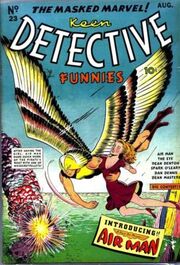 Powers and Abilities
Powers
None known.

Abilities
None known.

Strength level
Unknown.

Weaknesses
None known.

Paraphernalia
Equipment: Artificial Gas-Filled Wings, Jet-Pack, Firearms and Bombs
Transportation: None known.
Weapons: None known.

Notes
Trivia
See Also
Appearances of Drake Stevens

(Chronological)

Appearances of Drake Stevens

(Unordered)

Character Gallery: Drake Stevens

Fan-Art Gallery: Drake Stevens

Quotations by Drake Stevens
Discover and Discuss
Links and References
http://pdsh.wikia.com/wiki/Airman
http://www.internationalhero.co.uk/g/gaairman.htm

---