Characteristics
Status
Origin
First appearance
Super-Mystery Comics #1 (July 1940)
History
Golden Age
Magno the Magnetic Man is a playboy adventurer with the super powers of magnetism and invulnerability who fights crime and battles the Axis. He uses his magnetism to fly and to draw or repel metallic objects.
Later, he gets a sidekick named Davey, who has the same powers and costume as his mentor. If Magno is in danger and exerts a magnetic force toward Davey, the youth will be drawn to his mentor, and whatever is in between them will be destroyed. He was never seen in a civilian identity or wearing anything expect his costume. The Clown was his archnemesis, but he also fought villains such as the Cobra.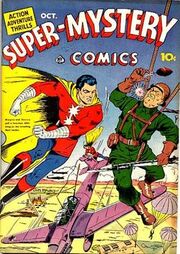 Magno was among the heroes who participated in the Battle of Kokura.
Modern Age
Magno was among the Super-Mysterymen who were captured after being released from Pandora's Urn.

Powers and Abilities
Powers
Magnetism, Flight, and Invulnerability

Abilities
None known.

Strength level
Unknown.

Weaknesses
None known.

Paraphernalia
Equipment: None known.
Transportation: None known.
Weapons: None known.

Notes
Quality comics also had a similar hero called Magno.

Trivia
See Also
Discover and Discuss
Links and References
---
Community content is available under
CC-BY-SA
unless otherwise noted.