Characteristics
Status
Origin
First appearance
Contact Comics #1 (1944)
History

Beautiful Mary LeRoche did her part for the war effort by working in a serviceman's canteen on an American held South Pacific island. No one knew, not even her pilot boyfriend, Lieutenant Bill Evans, that the brave girl also masqueraded as the high flying siren of the skies... Black Venus.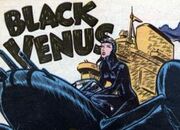 Powers and Abilities
Powers
None known.

Abilities
None known.

Strength level
Unknown.

Weaknesses
None known.

Paraphernalia
Equipment: None known.
Transportation: Airplane
Weapons: None known.

Notes
Trivia
See Also
Appearances of Mary LeRoche

(Chronological)

Appearances of Mary LeRoche

(Unordered)

Character Gallery: Mary LeRoche

Fan-Art Gallery: Mary LeRoche

Quotations by Mary LeRoche
Discover and Discuss
Links and References
http://pdsh.wikia.com/wiki/Black_Venus

---