Characteristics
Status
Origin
First appearance
Crash Comics #1 (May 1940)
History

Percy van Norton is a playboy who acquires a secret book of yogi. He studies it for years until he becomes the world's most perfect man. He has the strength of 100 elephants, the speed of a race car and skin as tough as rhino hide. He puts his super-strength and genius-level mind to work fighting crime. He also carries a boomerang rope.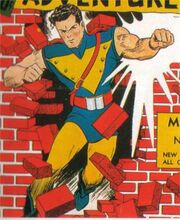 Powers and Abilities
Powers
Super Strength, Super Speed, and Impregnable Skin

Abilities
Genius-level Mind

Strength level
Unknown.

Weaknesses
None known.

Paraphernalia
Equipment: None known.
Transportation: None known.
Weapons: Boomerang Rope

Notes
Trivia
See Also
Appearances of Percy van Norton

(Chronological)

Appearances of Percy van Norton

(Unordered)

Character Gallery: Percy van Norton

Fan-Art Gallery: Percy van Norton

Quotations by Percy van Norton
Discover and Discuss
Links and References
http://pdsh.wikia.com/wiki/Strongman

---