Base Of Operations
New Shangri-Las
Characteristics
Status
Origin
First appearance
Reg'lar Fellers Heroic Comics #1 (Aug 1940)
History

Harry Thurston, a young chemical engineer accidentally compounded a formula to convert human flesh and blood into water. A huge container of this remarkable solution was spilled, and splashed over Bob Blake, Harry's friend, causing him to disintegrate and become pool of water on the laboratory floor. Promptly an antidote was concocted, and with the aid of this, Bob regained his natural form. He then discovered that he could control this phenomenal change merely by power of thought. He sometimes partnered with the young hero Rainbow Boy.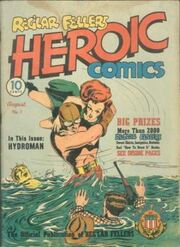 The Fighting Yank trapped Hydro in Pandora's Urn sometime after World War II. After the Urn was broken, Hydro reappeared in Los Angeles, where he doused a wildfire that was inadvertently started by the returning Flame. Hydro, the Flame and Pyroman battled Dynamic Boy in a brief encounter that resulted in Pyroman electrocuting Dynamic Boy. As the trio was about to be arrested, they were found by the Green Lama and other heroes.

Powers and Abilities
Powers
Transform into water

Abilities
None known.

Strength level
Unknown.

Weaknesses
None known.

Paraphernalia
Equipment: None known.
Transportation: None known.
Weapons: None known.

Notes
Trivia
Originally called Hydroman, his name was shortened to Hydro to avoid confusion with the Marvel Comics villain.
See Also
Discover and Discuss
Links and References
---
Community content is available under
CC-BY-SA
unless otherwise noted.