Characteristics
Status
Occupation
Pharmacist Assistant
Origin
Richard E. Hughes & Dan Gabrielson
History

After being taken on as pharmacist Bob Benton's assistant, young Tim Roland accidentally adds formic acid to an experiment Benton is working on. The resulting "formis ethers" gave Benton super strength and invulnerability. Bob sent Tim to a costume shop and then became the Black Terror. Tim picked up a smaller matching costume, unknown to Benton.
When Tim learned of a plot to crash a subway train, the Black Terror went to prevent the crash. Tim, thinking the Terror may need help, reproduced the experiment and developed the same powers as the Black Terror.
Tim showed up in the nick of time and the crash was prevented. The Black Terror and his sidekick Tim, together known as the Terror Twins, went on to fight threats both domestic and foreign throughout World War II.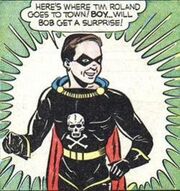 Two days after Dynamic Boy's funeral, Tim was approached by Dynamic Boy for help - and was shot for his trouble, with Dynamic Boy "borrowing" Tim's face and masquerading as him.[1] But he has recently returned from the grave and his fighting Dynamic Boy.

Powers and Abilities
Powers
Super Strength and Invulnerability

Abilities
None known.

Strength level
Unknown.

Weaknesses
None known.

Paraphernalia
Equipment: None known.
Transportation: None known.
Weapons: None known.

Notes
Trivia
See Also
Appearances of Tim Roland

(Chronological)
Appearances of Tim Roland (Unordered)

Character Gallery: Tim Roland

Fan-Art Gallery: Tim Roland

Quotations by Tim Roland
Discover and Discuss
Links and References
---